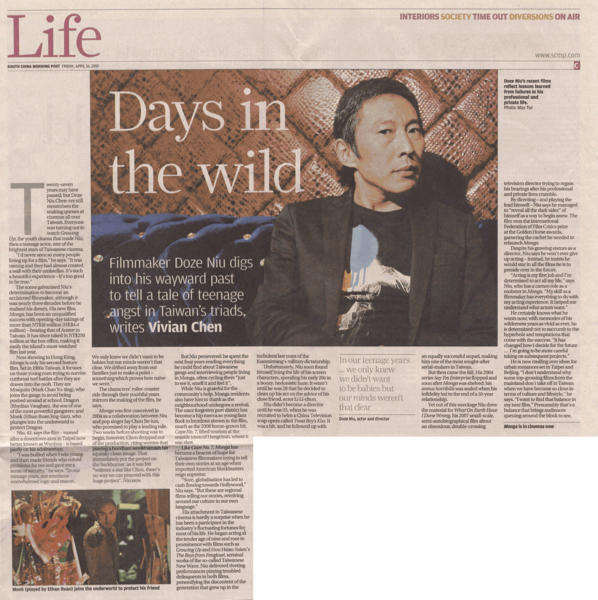 Filmmaker Doze Niu digs into his wayward past to tell a tale of teenage angst in Taiwan's triads, writes by Vivian Chen


Twenty-seven years may have passed, but Doze Niu Chen-zer still remembers the snaking queues at cinemas all over Taiwan. Everyone was turning out to watch "Growing Up", the youth drama that made Niu, then a teenager actor, one of the brightest stars of Taiwanese cinema.


"I'd never seen so many people lining up for a film," he syas. "It was raining and they had almost created a wall with their umbrellas. It's such a beautiful experience - it's good to be true."


The scene galvanised Niu's determination to become an acclaimed filmmaker, although it was nearly there decades before he realised his dream. His new film, Monga, has been an unqualified success with opening-day taking of more than NT$19 million (HK$4.4 million) - beating that of "Avatar" in Taiwan. It has since raked in NT$250 million at the box office, making it easily the island's most-watched film last year.


Now showing in Hong Kong, Monga is only his second feature film, Set in 1980s Taiwan. it focuses on three young men trying to survive cutthroat turf battles after they are drawn into the mob. They are Mosquito (Mark Chao Yu-ting), who joins the gangs to avoid being pushed around at school;Dragon(Rhydian Vanghan), the son of one of the most powerful ganster; and Monk(Ethan Ruan Jing-tian), who plunges into the underworld to protect Dragon.


Niu, 43, says the film - named after a downtone area in Taipei now better known as Wanhua - is based partly on his adolescence.


"I was bullied when I was young and then made friends who solved problems for me and gave me a sense of security," he says, "In our teenage years, our emotions overwhelmed logic and reason.


We only knew we didn't want to be babies but our minds weren't that clear. We drifted away from our families just to make a point - somthing which proves how naive we were."


The characters' roller-coaster ride through their youthful years mirrors the making of the film, he says.


Monga was first conceived in 2004 as a collaboration betwenn Niu and pop singer Jay Chou Jie-lun, who promised to play a leading role. Two weeks before shooting was to begin, however, Chou dropped out of the production, citing worries that playing a hoodlum would tarnish his squeaky clean image. That immediately put the project on the backburner, as it was felt "without a star like Chou, there's no way we can proceed with this huge project", Niu says.


But Niu persevered; he spent the next four years reading everthing he could find about Taiwanese gangs and interviewing people living in Monga, often cycling there "just to see it, smell it and feel it".


While Niu is grateful for the community's help, Monga residents also have him to thank as the neighbourhood undergoes a revival. The once forgotten part district has become a hip mecca as young fans flock to locations shown in the film, much as the 2008 home-grown hit, Cape No. 7, lifted tourism at the seaside town of Hengchun, where it was shot.


Like Cape No. 7, Monga has become a beacon of hope for Taiwanese filmmakers tring to tell their own stories at an age when imported American blockbusters reign supreme.


"Sure, globalisation has led to cash flowing towards Hollywood," Niu says. "But theres are regional film telling our stories, revolving around our culture in our own language."


His attachment to Taiwanese cinema is hardly a surprise when he has been a participant in the industry's fluctuating fortunes for most of his life. He began acting at the tender age of nine and rose to prominence with films such as Growing Up and Hou Hsiao-hsien's The Boys from Fengkuei, seminal works of the so-called Taiwanese New Wave, Niu delivered riveting performancese playing troubled delinquents in both films, personifying the discontent of the gereration that grew up in the turbulent last years of the Kuomintang's military dictatorship.


Unfortunately, Niu soon found himself living the life of his screen character, spending his early 20s in a boozy, hedonistic haze. It wasn't until he was 28 that he decided to clean up his act on the advice of his close friend, actor Li Li-chun.


Niu didn;t become a director until he was 33, when he was recruited to helm a China Television soap opera called Toast Boy's Kiss. It was a hit, and he followed up with an equally successful sequel, making him one of the most sought-after serial-makers in Taiwan.


But then came the fall. His 2004 series Say Yes Enterprise flopped and soon after Monga was shelved; his annus horribilis was sealed when his infidelity led to the end of a 10-year relationship.


Yest out of this wreckage Niu drew the material for What On Earth Have I Done Wrong, his 2007 small-scale, semi-autobiographical film about an obnoxious, double-crossing television director trying to regain his bearing after his professional and private lives crumble.


By directing - and playing the lead himself - Niu says he managed to "reveal all the dark sidee" of himself as a way to begin anew. The film won the International Federation of Film Critics prize at the Golden Horse awards, garnering the cachet he needed to relaunch Monga.


Despite his growing stature as a director, Niu says he won't ever give up acting - instead, he insists he would star in all the films he is to preside over in the future.


"Acting is my first job and I'm determined to act all my life," says Niu, who has a cameo role as a mobster in Monga. "My skill as a filmmaker has everything to do with my acting experience. It helped me understand what actors want."


He certainly knows what he wants now; with memories of his wildness years as vivid as ever, he is determined not to succumb to the hyperbole and temptations that come with the success. "It has changed how I decide for the future...I'm going to be more careful taking on subsequent projects."


He is now mulling over ideads for urban romances set in taipei and Beojing. "I don't understand why some top_grossing films fomr the mainland don't take off in Taiwan when we have become so close in terms of culture and lifestyle," he says. "I want to find that balance in my next film." Presumably that's a balance that brings audiences queuing around the block to see.