感謝Facebook粉絲團的Jane Leung提供剪報,還有Alice Lo 的文字檔案。
方保羅(Paul Fonoroff),原藉美國,高中開始學習漢語,取得南加州大學電影藝術碩士後赴北京研究中國電影。1983年移居香港[1],為亞洲電視國際台主持影評節目《Movie World》,亦經常在電影中客串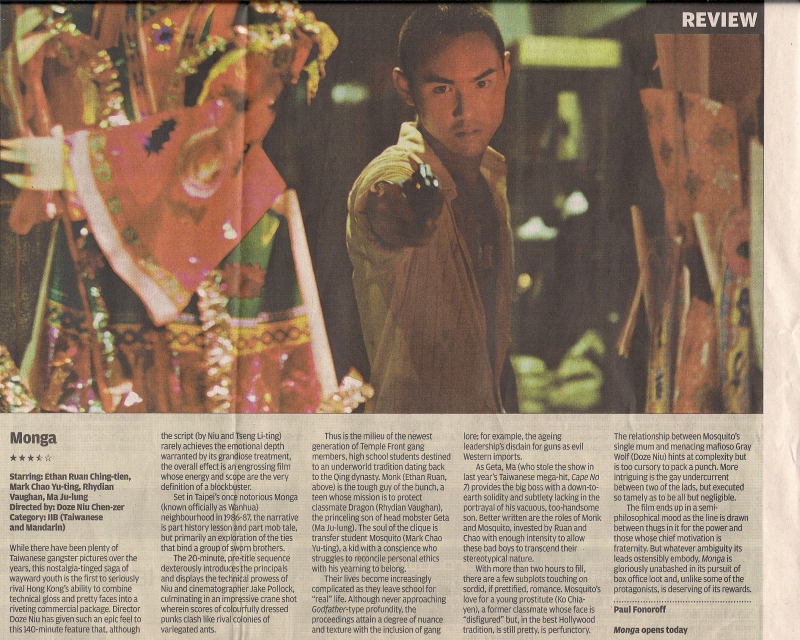 While there have been plenty of Taiwanese gangster pictures over the years, this nostalgia-tinged saga of wayward youth is the first to seriously rival Hong Kong's ability to combine technical gloss and pretty faces into a riveting commercial package. Director Doze Niu has given such an epic feel to this 140-minute feature that, although the script (by Niu and Tseng Li-ting) rarely achieves the emotional depth warranted by its grandiose treatment, the overall effect is an engrossing film whose energy and scope are the very definition of a blockbuster.
Set in Taipei's once notorious Monga (known officially as Wanhua) neighbourhood in 1986-87, the narrative is part history lesson and part mob tale, but primarily an exploration of the ties that bind a group of sworn brothers.

The 20-minute, pre-title sequence dexterously introduces the principals and displays the technical prowess of Niu and cinematographer Jake Pollock, culminating in an impressive crane shot wherein scores of colourfully dressed punks clash like rival colonies of variegated ants.

Thus is the milieu of the newest generation of Temple Front gang members, high school students destined to an underworld tradition dating back to the Qing dynasty. Monk (Ethan Ruan) is the tough guy of the bunch, a teen whose mission is to protect classmate Dragon (Rhydian Vaughan), the princeling son of the head mobster Geta (Ma Ju-lung). The soul of the clique is transfer student Mosquito (Mark Chao Yu-ting), a kid with a conscience who struggles to reconcile personal ethics with his yearning to belong.

Their lives become increasingly complicated as they leave school for "real" life. Although never approaching Godfather-type profundity, the proceedings attain a degree of nuance and texture with the inclusion of gang lore: for example, the ageing leadership's disdain for guns as evil Western imports.

As Geta, Ma (who stole the show in last year's Taiwanese mega-hit, Cape No. 7) provides the big boss with a down-to-earth solidity and subtlety lacking in the portrayal of his vacuous, too-handsome son. Better written are the roles of Monk and Mosquito, invested by Ruan and Chao with enough intensity to allow these bad boys to transcend their stereotypical nature.

The relationship between Mosquito's single mum and menacing Mafioso Gray Wolf (Doze Niu) hints at complexity but is too cursory to pack a punch. More intriguing is the gay undercurrent between two of the lads, but executed so tamely as to be all but negligible.

The film ends up in a semi-philosophical mood as the line is drawn between thugs in it for the power and those whose chief motivation is fraternity. But whatever ambiguity its leads ostensibly embody, Monga is gloriously unabashed in its pursuit of box office loot and, unlike some of the protagonists, is deserving of its rewards.

By Paul Fonoroff for SCMP